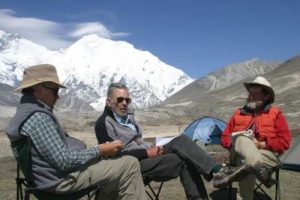 Daniel C. Taylor has been designing unusual projects since he was a young boy growing up in the Himalaya. He is the third generation of a family with a century of social service and conservation in the Himalaya.
Today, Daniel focuses on growing a university: Future Generations University. The focus is to help people around the world learn how to improve their communities. Groups of people can improve their lives using what these people already have. Today's opportunity is to bring to your situation information and skills from around the world. A new universe of localized learning can be created that is world-circling.
In the explorations Daniel has engaged with over many decades, idea built on idea, guided by evidence of what worked. The SEED-SCALE method that has evolved grows localized change. From around the world, draw what is appropriate–this is possible in today's world. This is Future Generations University's focus (www.Future.Edu). Daniel's explorations of the physical world, as with those of his ideas, pioneered this approach of discovery.
His first quest was to explore the secret of the Yeti. He discovered the animal behind the footprints (a bear) and began a journey that would take him beyond the romantic and adventurous (which included more than 100 Himalayan expeditions, including a dozen first ascents of mountains and four first descents of uncharted rivers).
Daniel realized that nature conservation needed to benefit local people and to be cost effective. In the 1970s, he began a variety of projects in West Virginia that focused on non-formal outdoor education programs for young people and on a non-profit dedicated to sustainable development planning for mountain regions known as The Mountain Institute.
In 1985, after leading the establishment of Nepal's Makalu-Barun National Park and adjoining Conservation Area, he proposed to the Tibet Autonomous Region to create the Qomolangma (Everest) National Nature Preserve.
Since this achievement, scholarship and field applications of community-based development and conservation have expanded to India, Peru, and Afghanistan. A designer and builder, Daniel has created a series of innovative energy-efficient houses and offices, two airplanes, four books, the introduction of a rare Tibetan dog breed, and five non-profit organizations.The focus of his current work is collaborating with a growing world-wide team that seeks to define a process for just and lasting change.
Daniel Taylor has a doctorate from Harvard University in Education and International Social Development. He has been Knighted by the King of Nepal with Gorka Dakshin Bau III, received the first Honorary Professor of Quantitative Ecology from the Chinese Academy of Sciences, and was decorated with the Order of the Golden Ark by H.R.H Prince Bernhard of The Netherlands.
His books with chapters on the QNNP include:
> The Novel CAIRNS (For Words Press, 2011) 
> Empowerment on an Unstable Planet (Oxford University Press, 2012)
> Just and Lasting Change (Johns Hopkins University Press, 2002)
> Something Hidden Behind the Ranges (Mercury House Press, 1995)